Zest Curved Slider Jig 300 Gram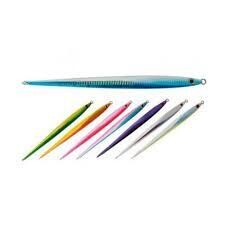 The Zest Curved Slider Jig is a centre weighted jig with great sliding (gliding) action but will bomb the depths too.
One side offers a colour choice with the opposite side entirely luminescent. Imagine the strobe effect as this luminous jig flutters to the bottom in deep water. Great for targeting Yellowtail Kingfish, Bluenose and Hapuka (Grouper) in deep water up to 100m. Mimics larger baitfish - which means it attracts even larger predators!
Centre weighted jig with great sliding (gliding) action
One side is extremely luminescent
Fast, fluttery sinking jig for deep water species
Perfect for high speed jigging
Great for targeting Yellowtail Kingfish, Bluenose and Hapuka (Grouper) in deep water up too 100m
Mimics larger baitfish - which means it attracts even larger predators
Weight: 300g
Length: 28cm
Includes Kevlar assist rig, split ring & hook
4 colour options