Jigstar In-Line Hooks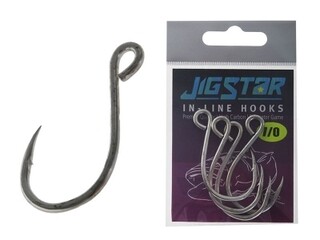 The Jig Star In-Line Popper and Stickbait Hooks are made to be used on lures such as poppers and stickbaits with a single split right to attach each hook to the belly and tail tie points.
Made from super strong and sharp high carbon steel finished with a superior anti-corrosion process for longevity. Each hook also features an optimised hook gape and barb-point configuration to ensure consistent hooksets, and a shorter shank for optimised lure action in the water. The eye is welded to the hook shank for additional strength, as well as to eliminate any chance of "line fouling" on the hook's eye.
Designed for use on lures such as poppers and stickbaits
High carbon steel
Superior anti-corrosion pricess
Optimised hook gape and barb-point configuration
Shorter shank
Welded eye